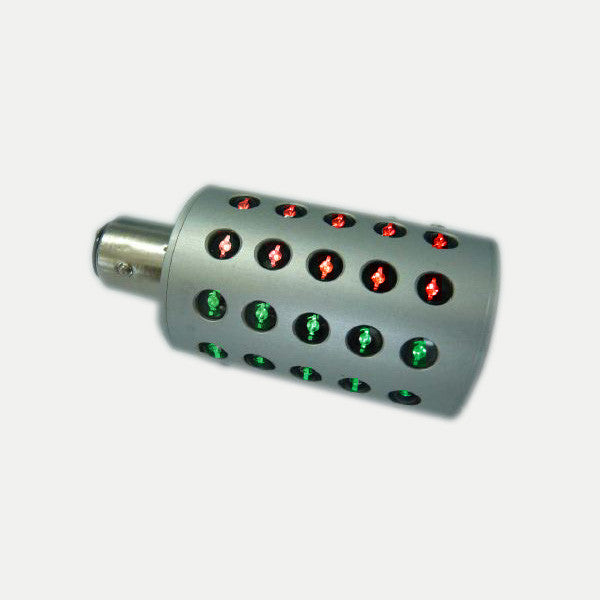 BAY15D Bi-Colour 50 LED Waterproof Lamp for Boats up to 20M (65ft)
$42.00
This waterproof LED lamp is perfect for replacing 25W incandescent lamps used in bi-colour fixtures.
This waterproof (rated IP66) high quality BAY15D 50 LED lamp is designed to replace a 25W incandescent lamp commonly used in bi-colour light fixtures for all boats up to 20m (65ft) and is ideal for both 12 Volt and 24 Volt systems. It has a mast top visibility of +2 nautical miles.
The lamp is constructed using 25 green and 25 red high quality LEDs which together effectively create two 112.5 degree sectors. The LEDs are epoxy sealed into an anodised aluminium cylinder and mounted on a corrosion resistant, BAY15D, stainless steel lamp base.
The red and green lenses of bi-coloured fixtures will pass pretty much 100% of the LED light output. This creates much brighter lights when compared to a 25W incandescent lamp which only passes a fraction of the light produced through coloured lenses.
An on-board Buck-Boost electronic control circuit ensures that a constant bright light output is maintained irrespective of the supply voltage.
Boatlamps recommend using Contralube 770 on all lamp holder contacts and other connections on your boat. This product will protect against contact corrosion which is the most common reason both LED and traditional incandescent lamps flicker or fail.
These lamps are not polarity conscious, they are fitted with a diode bridge rectifier and can therefore be connected either way without damage.
Voltage: 10-30V DC
Input Power: 2.5W
Input Current: 180 mA
Beam Angle: 360°
Dimensions: 32mm diameter x 50mm + Lamp base
Warranty: 24 months
Mast top visibility: +2 nautical miles
  BAY15D
 Our LED replaces this bulb type
When mounting LED lamps adjacent to AIS and other sensitive antenna do try to separate the lamp as far as is practicable from antenna to minimise any interference issues.
Important: In common with other replacement LED lamps on the market, it is not possible to have any sort of marine authority certification for individual replacement bulbs. These LED lamps are easily visible at distances exceeding 3nm in standard fixtures and is one of the brightest replacement LED bulbs available. Given the vast array of navigation light fittings installed on marine vessels, it is the user's decision alone whether to use this product to retrofit any particular light fitting used for navigation purposes.