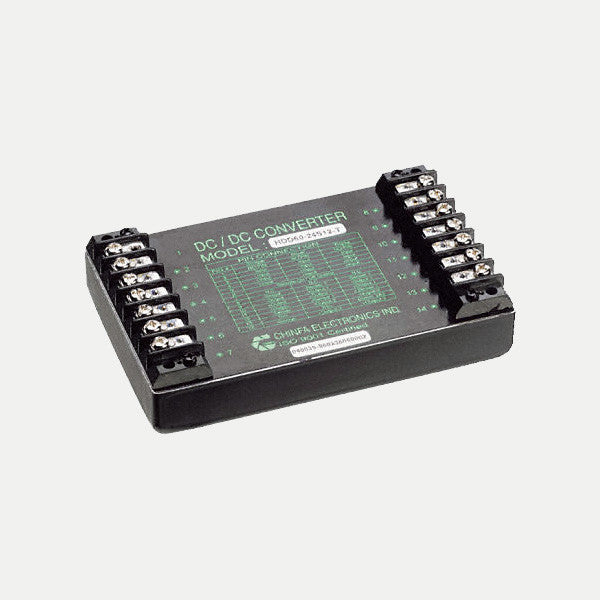 9-18V DC to 12V DC Voltage Convertor & Stabiliser: 60W
$183.00
SKU:
2130207-12V-Stabilised-Power-Supply-60W-BboxA
Sorry we have run out of stock for this item.
Stabilised 12V DC power supply for 12V systems.
Protect your sensitive small electronic devices and LED lighting installation against over-voltage.
This is a good quality constant-voltage DC-DC converter that can be supplied from any DC voltage between 9-18V DC and creates a stabilised 12V DC output voltage. The converter can be used to power small electronic devices that can often be voltage sensitive, such as, instruments or inexpensive resistor controlled LED lamps.
Maximum output power: 60W
Suitable for up to 30 LED lighting points
Wide input voltage range: 9-18V DC
Stabilised 12 Volt output
Internal, open-circuit, short-circuit, overload and over-temperature protection
Easy to install
This DC-DC voltage converter should be conveniently installed in-line after your circuit protective device (fuse or circuit breaker).
The size of cable feeding this unit should be of similar cross section as that of the circuit wiring it is being connected into.
This unit can be connected adjacent to the DC power distribution panel (circuit breaker panel). Simply connect power from the panel to the IN terminals and the power OUT terminals to the circuit that requires a stabilised 12VDC supply. There is no need to modify other wiring, or switches.
Please note: this device does not replace circuit protective devices such as fuses or circuit breakers. These must remain in place to protect your wiring in the event of a fault occurring.