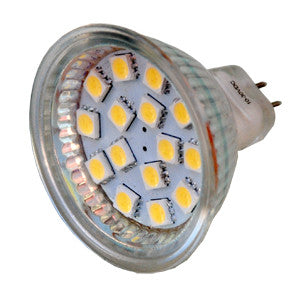 MR16 15 SMD 5050 LED Bulb - Glass Covered
$15.00
MR16 15 SMD 5050 LED Bulb - Glass Covered.
On board voltage spike and excess current protection.
Great light output from this 15 SMD LED lamp in a standard glass covered MR16 housing.
It has 15 bright surface mounted cool-white LEDs and features our constant-current, 'Buck-Boost' electronic control circuit.  The on board electronics ensure that the lamp remains consistently bright despite any variation in supply voltage.
This lamp is perfect for use as a replacement deck light lamp, particularly for combination steaming/deck light fixtures. It is also suitable as deck head mounted lamp particularly in external and utility areas where the bright cool white light is very useful.
This lamp minimises EMI, unlike other similar looking lamps sold for use in motor vehicles. We utilise specially designed PCB layouts which avoid tracks acting as antenna that radiate EMI (electromagnetic interference).
Similar looking MR16, 12 Volt LED lamps are supplied widely to the domestic household market, where they are used with separate LED drivers. Beware many lamps sold for domestic household use do not have any internal constant-current voltage controls and are therefore NOT suitable for use on boats where voltage can vary between 11V and 16V. Using these lamps will often result in a much reduced service life.
The light output is UV free and unlike conventional lamps its light output will not fade surfaces, furnishing fabrics and will attract less flying insects.