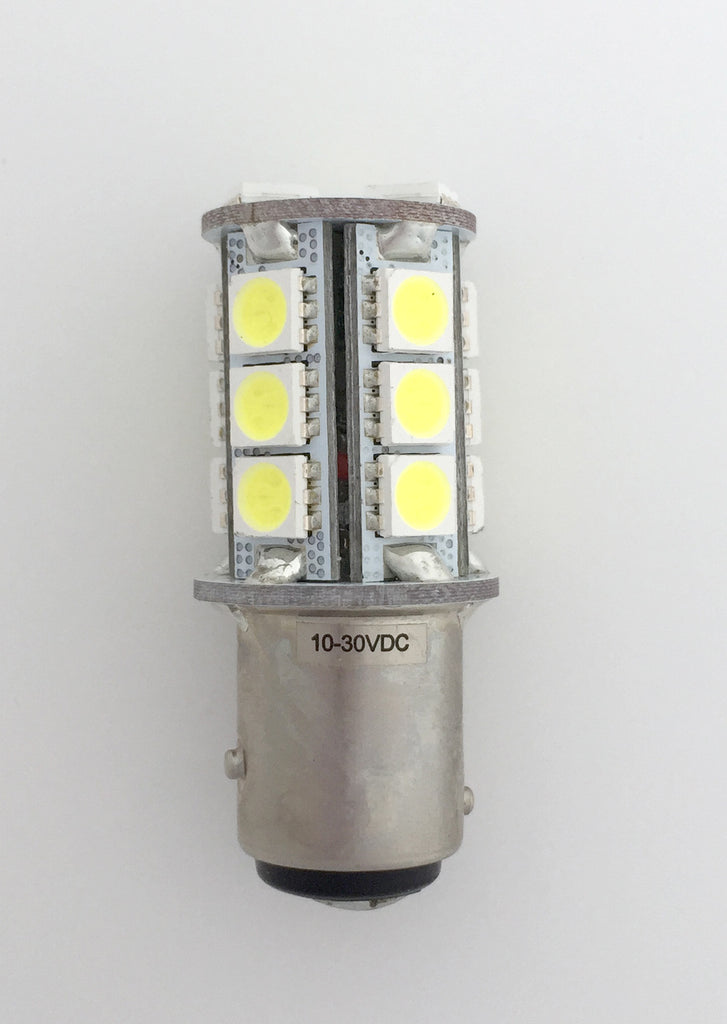 BAY15D 18 SMD 5050 Compact LED Navigation Light Bulb - Cool White
$13.00
Super bright, cool white, light emission BAY15D bayonet replacement LED navigation bulb, which fit most white navigation lights manufactured by Hella Marine, Aqua Signal, Perko and other manufacturers.
This compact high output 5050, 266 Lumen lamp (CW) is suitable for use in most white navigation light fittings that use traditional incandescent bulbs and is ideal for both 12 Volt and 24 Volt systems. They have a mast top visibility of +2 nautical miles.The lamp can be used for stern, steaming and mast head anchor light elements of tri-colour lights for all boats up to 20 metres. Do not use cool white lamps behind separate red or green lens or combined bi colour lights as the output colours will not be correct.
For larger vessels and for owners who wish to be seen over much greater distance see our very high output lamps.
All our lamps have our on-board PWM Buck-Boost electronic control circuit which combine with our high output SMD LEDs to give consistent light output and a very long service life. The lamps are also protected from damage by voltage transients (spikes) and have a built in electronic fuse that shuts down the individual lamp should it develop an internal fault. These lamps are designed to minimise EMI, unlike other similar looking lamps sold for non marine use. We utilise specially designed PCB layouts which avoid tracks acting as antenna that radiate EMI (electromagnetic interference).
Boatlamps recommend using Contralube 770 on all lamp holder contacts and other connections on your boat. This product will protect against contact corrosion which is the most common reason both LED and traditional incandescent lamps flicker or fail.
Please regularly check that your navigation light fixtures are water tight. Gaskets harden over time and poorly sealed cable entries are prone to leaking. This is very import for bow mounted fixture that can be submerged occasionally in heavy seas. Our warranty specifically excludes damage to LED lamps due to salt water contamination. We can supply waterproof lamps for use in exposed light fixtures such as deck level port, starboard and bi-colour lights.
These lamps are not polarity conscious as they are fitted with a diode bridge rectifier and can therefore be connected either way without damage.
Voltage: 10-30V DC
Input Power: 3.2W
Input Current: 266mA @ 12v
Lumen Output: 266 Lm (CW), 231 Lm (WW)
LED: 18SMD 5050
Dimensions: 27mm x 18mm dia + lamp cap 
Colour Temperature: 6000K CW 
Beam Angle: 360 deg
Warranty: 24 months
Mast top visibility: >2 nautical miles
  BAY15D
 Our LED lamp replaces this bulb type