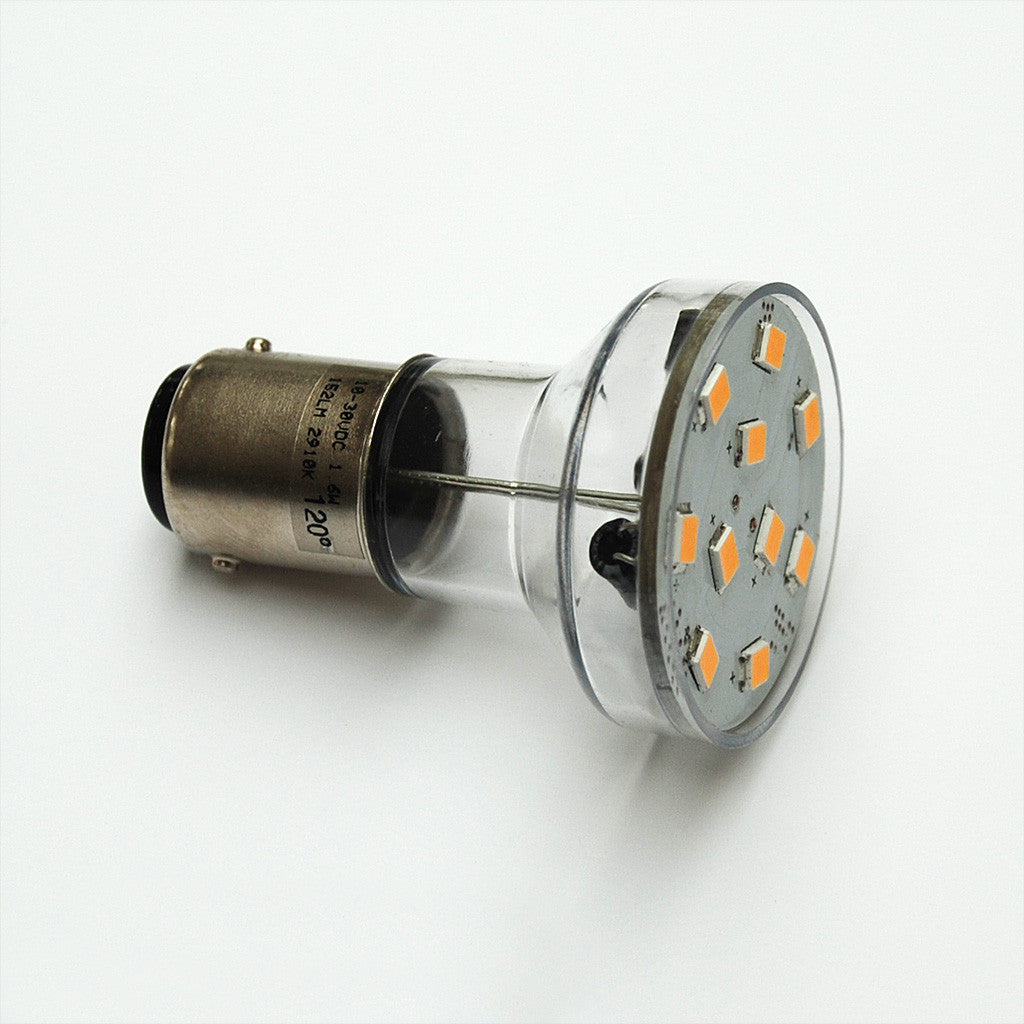 BA15D 10 SMD 2835 High Output LED Lamp: Long Neck
$14.00
Bayonet LED replacement for bunk / reading light or use in deck-head mounted down light – our brightest lamp in this format.
On board voltage spike and excess current protection.
This warm white 10 SMD G4 LED lamp is a very bright lamp recommend for both bunk side lighting and for other directional light fixtures which utilise a BA15D incandescent lamp. The effective light output is comparable with that of a 15W halogen bulb. This lamp is particularly useful for inserting into deep recessed lamp holders fitted to some bunk reading light fixtures and is ideal for both 12 Volt and 24 Volt systems.
The lamp has a full 24 month warranty and is fitted with our Buck-Boost electronic control circuit which ensures that the light output is consistently bright when voltage varies and helps ensure that lamp working life is maximised. We also have added electronic voltage spike protection and a self resetting electronic fuse. These lamps are designed to minimise EMI, unlike other similar looking lamps sold for non marine use. We utilise specially designed PCB layouts which avoid tracks acting as antenna that radiate EMI (electromagnetic interference).
Boatlamps recommend generously lubricating all lamp-holder contacts with Contralube 770 gel to protect and prevent corrosion of all metal parts.
The light output is UV free and unlike conventional lamps its light output will not fade surfaces, furnishing fabrics and attract less flying insects.
These lamps are not polarity conscious they are fitted a independent diode bridge rectifier and can therefore be connected either way without damage.
Voltage: 10-30V DC 
Input Power: 1.6W
Input Current: 200 mA@12V
Lumen Output: 152 Lumens, WW
LED: 10SMD 2835
Colour Temp: 2910K, WW
Beam Angle: 120°
 BA15D
Our LED replaces this bulb type