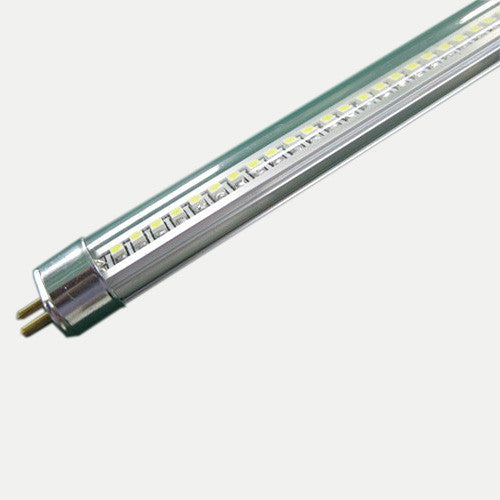 T5, 12V, LED Tube Replacement Lamp for 521mm / 21in Fluorescent Fixtures
$38.00
SKU:
2130120-T5-521mm-LED-Tube-BboxC
LED tube lamp providing effective light output equivalent to multiple fluorescent tubes.
Replace your dull 521mm (21in) fluorescent tubes (as installed on many Beneteau boats) with a very long life and much brighter LED tube. This LED tube lamp for 12 Volt and 24 Volt DC systems is designed and engineered to a marine quality specification and is, consequently, very much brighter than other products on the market.
When considering alternative products, check the lumen output of any similar looking products, often they emit a much lower light output. Our 521mm, 650 lumen lamps are constructed using 120 high quality Epistar SMD LEDs. Each LED lamp offers pretty much the effective light output of multiple fluorescent tubes, whist consuming less current than a single tube.
These lamps have a fourfold increased service life compared to fluorescent tubes and are completely flicker free in operation. Using much less power they are much more efficient and run much cooler. The lamp has Boatlamps built in Buck-Boost electronic 'Constant-Current' control circuit combining this with 120 high output SMD LEDs gives consistent light output over a wide range of input voltages (10-30V DC).
The light output is UV free and unlike fluorescent lamps will not fade surfaces, furnishing fabrics or attract flying insects.
Retro fitting LED tubes to existing fittings enable the disconnection of the energy wasting and often noisy ballast contained in existing fluorescent fixtures. A simple wiring modification to existing fittings is required. This DIY operation is easily undertaken by most boat owners. Full instructions are issued with the lamp.
This lamp has an estimated service life of 50,000 hours and will not cause interference to VHF or AIS signals.
Voltage: 10-30V DC
Input Power: 5W @ 12V DC
Input Current: 416 mA
Lumen Output: 420 lumens (Warm White)
Beam Angle: 120°
LED Service Life: 50,000 hrs
Dimensions: 16mm diameter x 521mm length
Warranty: 24 months